---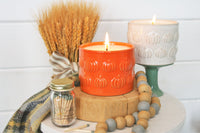 Our orange ceramic embossed pumpkin candle is a must have for your Fall décor. 
Candle Size: 12 oz. Dimensions: Height: 3", Width: 3.81", Diameter: 3.81" Each 12 oz. pumpkin candle averages 80+ burn hours.
Our candles are made from pure soy wax and have low smoke, cotton blend wicks for clean burning. 
Choose Your Scent: 
-Campfire Marshmallow (Smoldering woods, sugared marshmallow, fire roasted vanilla, and golden amber)

-Cozy Sweater Weather (Eucalyptus, fresh sage, and juniper berry)

-Autumn Night (Cinnamon, clove, and nutmeg layered with apple, cedar, and sandalwood)

-Fall Leaves (Crisp red apple, golden nectar, and enchanting spices)

-Cider Trail (Apple & Pumpkin cider combined with cinnamon and nutmeg...a BEST SELLER since our first year in business)

-Pumpkin Cupcake (Spiced pumpkin cake combined with whipped buttercream frosting)

-Pecan Pumpkin Waffles (Golden waffles topped with buttery, pumpkin maple syrup and garnished with toasted pecans)

-Cranberry Apple Marmalade (Tangy cranberry, juicy red apple, and sugared cinnamon spices)

-Banana Nut Bread (Fresh baked bread filled with bananas blended with cinnamon, walnuts, sugar, and vanilla)

-It's Fall Y'all (The essence of Fall captured in a candle...it's a blend of pumpkin, spice, pine trees, and fresh Fall air)

-Spiced Pear (Poached pears, candied pralines, and whipped vanilla)