---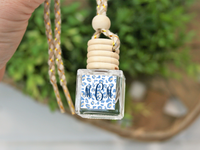 HOW TO ORDER: ENTER MONOGRAM IN EXACT ORDER IT SHOULD APPEAR ON LABEL IN THE "SPECIAL INSTRUCTIONS FOR SELLER" TEXT BOX AT CHECKOUT. 
Our Car Cube car air fresheners will make your car or any other small space smell amazing! This diffuser style air freshener not only smells great but will add a stylish touch to your car as well. 

Each Car Cube holds 10 mL of fragrance and will last around 1 month. You may get a little over a month out of your car cube depending on how strong you like your fragrance. We also sell 1 oz. fragrance refills so you can refill your Car Cube.

Choose Your Scent:

-Baby Cakes (Vanilla Cupcake)

-Roxy Doodle (A fruity blend of banana, grapefruit, and bubblegum with a hint of vanilla)

-Cucumber Melon

-Clean Sheets (Clean linen type scent)

-Pearberry

-Mahogany and Teak Wood

-South Georgia Peach

-Blueberry Cobbler

-Country Cabin (Evergreen and citrus with a slight musk...just like a cabin in the woods)

-Ocean Breeze (Clean and refreshing)

-Leather

-Fruit Loops

-Skinny Dippin' (Tropical, fruity bouquet with strawberry, apple, pear, and melon top notes combined with creamy vanilla undertones. You'll be so excited to get to the beach that you may forget your swimsuit.)

-Apple Pie

-Apple Cinnamon 

-Pineapple & Honey Melon

-Birthday Cake

-Strawberries & Cream

-Georgia Cotton (Crisp and clean scent that will remind you of cotton sheets that have been hung out to dry on a sunny afternoon in Georgia)

-Rose Oil

-Vanilla Lime

-Margarita 

-Lavender

-Lavender & Vanilla

-Blue Hawaiian (Tropical blend of pineapples, blueberries, and coconut)

-Eucalyptus

-Sandalwood

-Cotton Candy

-Fiji Sunset (Tropical yet clean blend of pineapple, mango, gogi berry, and driftwood)

-Vanilla Bean

-Mahogany Coconut

-Brown Sugar & Fig

-Roasted Pinecone (Clean and crisp pine with a background of sandalwood, vanilla, and hints of raspberry) 

-Island Time (Fresh cut melon, island coconut, and palm leaves)

-Cinnamon

-Southern Charm (Passion fruits, patchouli, & refreshing tea...a unique and welcoming scent...very charming just like the South.)

-Sweet Lemon (Fresh sliced lemons sprinkled with sugar.)

-Frasier Fir (crisp and festive with the aroma of siberian pine and cedar. Great for Winter and the holidays!)

-Coffee House (Fresh brewed coffee)

-Midnight (Masculine blend of wood & citrus)

-Nag Champa (Earthy blend of patchouli, sandalwood, and dragon's blood. This is a popular incense fragrance.)
-Bergamot Bliss (crisp, refreshing, and aromatic blend of sparkling bergamot, sugared citrus, light florals, and creamy sandalwood.)
-Farmstand Apple (fresh sliced McIntosh apples)
-Fresh Turned Peanuts (The aroma of fresh plowed peanut fields.)
 -Lumberjack (Clean and masculine blend of sandalwood and patchouli with a hint of spice)
-Tobacco Bay (Wild tobacco + Bermuda bay leaves...very fresh and herbal.)
-Gardenia (A beautiful floral fragrance that captures the aroma of a blooming gardenia flower.)