---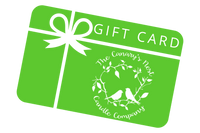 Want to get the candle lover in your life the perfect candle but not sure what scent they like? Our gift cards are the PERFECT gift!!
This is an e-gift card! You will receive the gift card code via email after you complete your purchase. When checking out, make sure you choose Warehouse Pickup for your shipping option so you aren't charged for shipping.
How e-Gift Card Purchases Work:
•You select the amount you wish to purchase from the drop down menu.
•Gift card code will be emailed to you after purchase. The gift card code is used at checkout in the promo code section.
•Gift card codes are normally e-mailed within 24 hours or less. If you do not receive your gift card code within 24 hrs, please email us at: thecanarysnestcandleco@gmail.com with your order number in the subject line.